How to: HubSpot - LinkedIn Sales Navigator Integration

Orly Tomer
LinkedIn Sales Navigator is a powerful tool that enables sales teams to harness the potential of their talent, it will enhance customer relationships, and seize new opportunities. By integrating HubSpot with LinkedIn Sales Navigator, You can seamlessly tap into the power of these invaluable tools directly from your HubSpot contact record.
That means as you're managing your daily tasks in the CRM, you can say goodbye to the hassle of opening multiple tabs to track down leads or accounts in Sales Navigator. You will have access to a wealth of powerful features that will streamline your workflow.
What are the benefits of using HubSpot with LinkedIn?
By integrating HubSpot with LinkedIn Sales Navigator, you will unlock a treasure trove of invaluable information directly from your contact record.
Contact Record: accesses and engage your contacts with personalized outreach and LinkedIn tools directly from the HubSpot contact record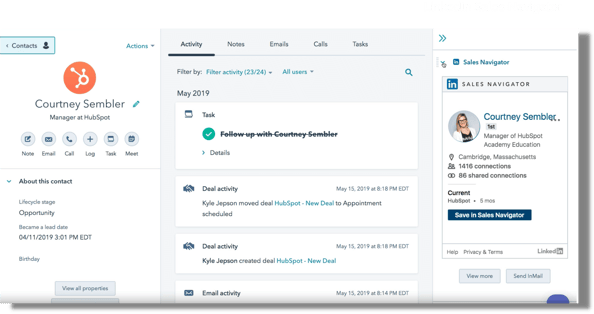 • InMail: Add LinkedIn Sales Navigator actions to sequences and send InMail without ever leaving HubSpot.

• Icebreakers: View shared connections, experiences, and interests.

• Get introduced: Ask a mutual connection for an introduction to your contact.

• Related leads: Quickly find other leads at the same company and add them to your Sales Navigator leads list.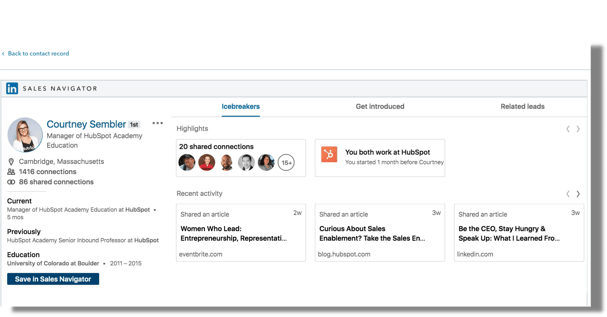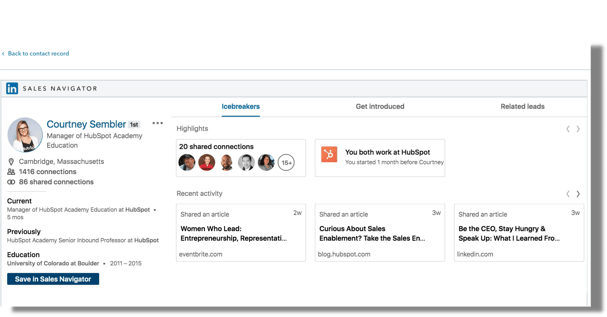 You'll see the following LinkedIn Sales Navigator information on your HubSpot company records:

• Recommended leads: With whom in the organization do you share connections or interests? Connect with them, and start your sales outreach there.

• Connections: Who are you already connected with in the organization that you might reach out to?
* Embedded Profiles are available with Advance and Advanced Plus.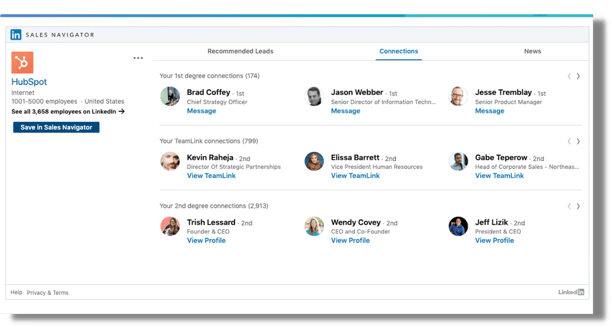 Requirements:
Assigned Sales Hub Professional

LinkedIn Sales Navigator Advanced or Advanced Plus

You're only connecting the integration to your user account

Each user will need to connect the LinkedIn Sales Navigator app from the HubSpot Marketplace while signed in to HubSpot with their unique login

Unfortunately, importing contacts from LinkedIn is currently not supported through this integration.